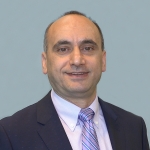 Dr. Soner Tarim is the founder and CEO of Royal Public Schools an innovative K-12 charter school in Texas. He was a founder and former CEO of Harmony Public Schools, high performing K-12 public charter schools located in Texas with a strong focus on STEM education providing opportunities for under-served communities. Soner is the driving force in creating STEM academies with an emphasis on college readiness. His leadership philosophy recognizes the need to develop meaningful partnerships, maintain open collaborative lines of communication, and leverage relationships with high-level corporate, business, civic, and legislative leadership to advance the mission of Royal and opportunities for its beneficiaries.

Under Soner's leadership, Harmony has grown from one to 54 schools and 34,000 students throughout the state of Texas, many of which have been recognized nationally as academically competitive schools. Harmony has received numerous outstanding awards and recognition, including the National Title I Distinguished School Award for closing the achievement gap and a Broad Prize nomination.

Over his 35-year professional career, Soner has developed innovative educational programs geared to K-12 schools. Soner has distinguished himself as a results-oriented educator with unrivaled expertise and knowledge in developing and managing innovative charter schools. Currently, Soner has been developing a new national public charter school program, Royal Public Schools, that incorporates STEM with Reading, Arts, and Social-Emotional Learning (STREAMS).

Soner holds a Ph.D. from Texas A&M University and is a trained biologist and ecologist. He has taught many courses in the field of biology, ecology, and general science at the high school, college, and graduate school levels. Soner has spearheaded scientific symposiums and international science competitions for high school students to share their ideas, experiences, and knowledge to promote global sustainability.