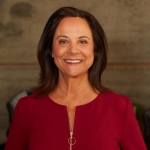 AERDF and NewSchools Venture Fund
Stacey Childress is the chief executive officer at AERDF and NewSchools Venture Fund. A nationally recognized expert on philanthropy and innovation in K-12 education, she joined NewSchools in 2014 to help refocus it on the future of learning. More recently, Stacey worked with a diverse team of leaders to incubate and launch AERDF, an Inclusive R&D fund.

In July 2021, Stacey was named to the Forbes 50 over 50: Impact list, a group of trailblazing women changing their communities and the world through social entrepreneurship, law, advocacy and education.

From 2010 – 2014, Stacey led the K-12 Next Generation Learning team at the Bill & Melinda Gates Foundation, investing in schools and technologies that enable better learning outcomes for middle and high school students in the United States. In 2012 she was named to the Forbes Impact 15 list, a group of innovators reimagining learning globally.

Before her time in philanthropy, Childress was on the faculty of the Harvard Business School. There she studied entrepreneurial activity in public education in the United States, writing three books and more than 40 cases and articles about education entrepreneurship. She also developed and taught a course on education entrepreneurship that was taken by more than 800 students and won teaching awards from the school's Dean and her students.

Before joining Harvard, Childress co-founded an enterprise software company, spent 10 years in corporate sales and leadership at a Fortune 500 company, and worked as a classroom teacher.