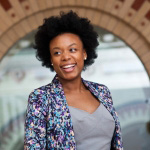 founder, managing director
Tanya St. Julien (TSJ) believes in the transformative power of values-based leadership to address society's most dynamic social problems. Over the past 20 years, she has partnered with elected officials, policy leaders and social impact entrepreneurs to create opportunities for Black and Brown students and communities to thrive.

TSJ is the founder and managing director of First Years, an advisory practice that strengthens communities and advances equity through partnerships with social impact leaders and organizations navigating the first years of change or growth. Prior to First Years, TSJ served as chief of staff at Leadership for Educational Equity (LEE), led communications and enrollment policy at the NYC Dept of Ed, and worked extensively with community-based organizations to develop skill-based education and civic empowerment initiatives for students and their families.

TSJ is the proud daughter of Haitian immigrants and a native New Yorker, living in Atlanta. She is a graduate of Boston University and Harvard University. She loves good food, good jokes, and good times.