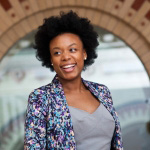 founder, managing director
Tanya St. Julien currently serves as chief of staff at Leadership for Educational Equity (LEE), a national leadership development organization that works with teachers to become civic leaders in advocacy, community organizing, policy, and elected office to improve education for all kids. Tanya has been a community leader and advocate for educational equity for over 15 years while having successful impact in municipal government and non-profit management.

Prior to LEE, Tanya led communications and enrollment policy at the New York City Department of Education. She also worked extensively with community-based organizations and schools in the Bay Area, Newark, and throughout New York City to develop skill-based education and civic empowerment programs for students and their families.

Driven by a deep commitment to her community, Tanya sits on her local Community Education Council, where she works with families, as well as local and state officials, to ensure that students in her district receive the resources and support that they need to cultivate their innate ability to achieve. She also serves as a mentor in the Fellowship for Emerging Leaders in Public Service through the New York University Wagner Graduate School of Public Service.

Tanya is the proud daughter of Haitian immigrants and a native New Yorker, currently living in the Bedford-Stuyvesant neighborhood of Brooklyn, New York. She is a graduate of Boston University and Harvard Graduate School of Education. She loves good food, good jokes, and good times with her three precious nephews.