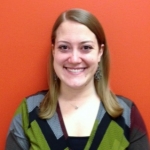 Tara Lentz is the co-executive director at Conexión Américas, a nonprofit organization that promotes the social, economic, and civic integration of Latino families. Following a holistic approach, Conexión Américas has developed nationally-recognized programs that support more than 6,000 Latino families in achieving their American dream annually: learning English, purchasing homes, supporting their children's academic success and path to college, and becoming an integral part of Nashville's social, cultural, and economic vitality. Since 2006, Tara has helped to develop, lead, and expand the organization's family engagement, extended learning, and college access and success programming for immigrant and refugee families.

In addition, Tara is an adjunct instructor in the Learning, Diversity and Urban Studies MEd program at Vanderbilt University's Peabody College, where she leads a practicum course for students about learning and leadership in nonprofit and community-based settings.

Tara earned a Master's of Divinity from Vanderbilt University Divinity School and is in the ordination process in the Presbyterian Church (USA). She also holds a BA in Spanish and Religion from Wake Forest University. Tara grew up in North Carolina, and currently lives in Nashville with her wife, Amy.