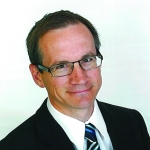 Vice President for Education
Ted Maple is vice president for education at Lilly Endowment Inc. Lilly Endowment is an Indianapolis-based, private philanthropic organization supporting the causes of religion, education and community development. Prior to joining Lilly Endowment, Ted served as president and CEO of Early Learning Indiana, a leading provider of quality early learning programs and coordinator of a number of statewide efforts to improve early childhood practices and policies in Indiana. Before assuming his role at Early Learning Indiana, Ted served as director of United Way of Central Indiana's early childhood education initiatives and school-based programs.

Earlier in Ted's career, he managed the early childhood program at St. Mary's Child Center, an Indianapolis-based nonprofit for at-risk children. He also taught kindergarten and first grade in the M.S.D. of Pike Township, a public school district on the northwest side of Indianapolis. Ted has been active in the Indianapolis community, where he has served on various boards, committees and workgroups related to education. He earned his bachelor's degree in elementary education from University of Indianapolis, master's degree from Butler University, and a Ph.D. from Ball State University. Ted lives in Indianapolis with his wife, Johanna, and three sons: Sam, Jonah and Adam.