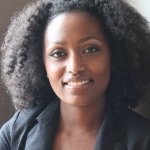 Tenicka Boyd is the senior advisor to the president at Color of Change, the is the nation's largest online racial justice organization, where she provides thought partnership to the president while directing and executing on the tactical implementation of the organizational vision and engagement strategy. She previously served as the founding national director of the Leaders of Color Initiative.

Prior to moving to New York City to create, direct, and lead the largest parent organizing effort in the country, Tenicka worked in the Obama Administration, where she served at the U.S. Department of Education in the White House Office of Faith-Based and Neighborhood Partnerships. She joined the Obama Administration working on youth homelessness. Previously, she spent years as a community organizer working on housing justice, school reform, and electoral, state, and presidential campaigns including the Obama Campaign in 2008.


Tenicka has appeared on dozens of media platforms including Fox 5 New York, NBC, and Capitol New York. She has written several op-eds featured in the New York Daily News, the New York Post, Politico, Education Post and Crain's business magazine. A graduate of Tennessee State University and the University of Michigan, when she is not traveling the world she is in Harlem with her family.