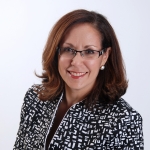 IBA - Inquilinos Boricuas en Acción
Vanessa Calderón-Rosado, Ph.D., is the chief executive officer of IBA-Inquilinos Boricuas en Acción, an organization dedicated to empowering individuals through education, workforce development and arts programs, and to creating vibrant affordable housing communities. During her tenure, IBA has completed a dramatic turnaround and is now the largest Latino-led nonprofit in Greater Boston.

Vanessa has served as advisor to various task forces, boards, commissions and high-profile searches, including Boston's Police Department and Public Health Commission. In 2009, she was selected for the prestigious Barr Foundation Fellowship granted to the most gifted non-profit leaders in Greater Boston. In 2010, Massachusetts Governor, Deval Patrick appointed her to the State Board of Elementary and Secondary Education, the first Latina in the Commonwealth's history. She is a founding board member of the Margarita Muñiz Academy, the first dual-language innovation high school in Massachusetts. In November 2013, Mayor-elect Martin Walsh appointed Vanessa to co-lead his housing transition team. In April 2014, Mayor Walsh appointed her as a member of his newly formed Housing Task Force. In December 2014, Governor-elect Charlie Baker appointed Vanessa to the Safe, Stronger Communities Transition Committee.

Vanessa is a Puerto Rican-born civic leader who received her doctorate from UMASS Boston.