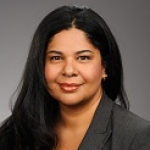 Veronica Conforme is the chancellor for the Education Achievement Authority of Michigan, a statewide school system designed to dramatically redesign public education in Michigan's lowest performing schools.

For over a decade, Veronica has worked to ensure children have access to a high quality education. Her past roles include serving as vice president for the Access to Opportunity campaign at The College Board where she launched and led a campaign to ensure that low-income students have access to attend colleges and graduate equipped to succeed.

Prior to The College Board, Veronica served at the New York City Department of Education for many years, culminating in her appointment as chief operating officer. She oversaw a $23 billion budget and 130,000 employees, directing organizational strategy, finance, technology, family and community engagement, fundraising, operations and communications. She was also chief financial officer and the deputy chief schools officer, overseeing the day-to-day activities of the city's 1,700 public schools.

Before her experience in K-12 education, Veronica worked in higher education, healthcare, and other non-profit organizations. She holds a bachelor's degree from Syracuse University and a master's degree in public administration and public policy from the School of International and Public Affairs at Columbia University.