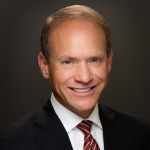 Dr. Vince Bertram is a global thought leader on K-12 STEM Education, Innovation, and Career Learning. He is also a two-time New York Times best selling author with his books Dream Differently and One Nation Under Taught. His personal mission is to help students aspire to and prepare for great careers, and to help companies get the talent they need to win.

Vince is a highly sought-after speaker and consultant and has given numerous keynote and commencement addresses and countless talks that have engaged and inspired students, educators, parents, policymakers, community organizers, and business leaders around the world.

For over a decade Vince was president and chief executive officer of Project Lead The Way (PLTW) where he led the company's dramatic growth to the preeminent STEM education program in the United States. During his tenure PLTW impacted millions of students in over 12,500 schools and trained over 12,000 teachers annually. Prior to PLTW he spent 20 years in education as a teacher, high school principal, and superintendent of one of the nation's largest urban school districts.
Vince is an inaugural member of the U.S. Congress-authorized STEM Education Advisory Panel with the National Science Foundation, the U.S. Department of Education, the National Oceanic and Atmospheric Administration, and NASA. He is a STEM education expert for the U.S. Department of State's Speaker and Specialist Program and has testified before the U.S. House of Representatives on the importance of high-quality STEM education.

Throughout his career Vince has received numerous awards including the Innovations in STEM Award from National Instruments, and the Community Builder Award from the National Coalition for Technology in Education and Training. He received an honorary doctorate in engineering from the Milwaukee School of Engineering, was named a Distinguished Hoosier by Governor Mitch Daniels, received the Intellectual Contributions and Faculty Tribute Award from the Harvard Graduate School of Education, the Distinguished Alumni Award from Ball State University, and was selected as 1 of 52 Graduates of Distinction during the Ball State University Centennial Celebration. He is a Pahara Education Fellow at the Aspen Institute, and currently serves on the Board of Directors of the Ball State University Foundation, Lakeside Book Company, and TPMA, Inc.

He earned degrees from Ball State (Ed.D., Ed.S, M.Ed.,BS), Georgetown & ESADE Business Schools (MBA), and Harvard (M.Ed). He also earned certificates in Strategy & Innovation and Applied Business Analytics from MIT, Corporate Finance from Wharton, and is certified in Lean Six Sigma.