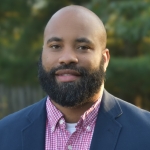 President & Chief Executive Officer
Hope Partnership for Education
Virgil Sheppard currently serves as the national school partnerships director for City Year, where he is responsible for developing a partnership strategy that maximizes student and school outcomes. Prior to this role, Virgil served as the managing director of impact for City Year Philadelphia, where he was responsible for the training, implementation, and evaluation of City Year's Whole School Whole Child model.

Virgil got his start in education while working for the School District of Philadelphia's Behavioral Team, overseeing the Comprehensive Student Assistance Process for 40 schools, and serving as a middle school administrator in the most diverse and second largest middle school in Philadelphia. During this time, Virgil oversaw the first Response to Instructional Intervention (RTII) pilot for the School District of Philadelphia, which included identifying evidenced-based strategies, effective researched-based intervention programs, and providing technical assistance to school-based RTII teams to ensure strong infrastructures to student support services were present.

Virgil is a proud West Philadelphia native that caught the education bug while serving as a coach, mentor, and tutor for the Panthers Youth Development Corporation, a community-based organization that provides year-round programming for 300 students in West Philadelphia. Virgil holds a bachelor's degree from Temple University and a master's degree from Cheyney University. Virgil currently resides in Philadelphia.