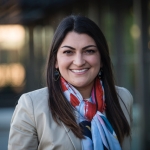 Co-Founder & Chief Executive Officer
Viridiana Carrizales is the co-founder and chief executive officer of ImmSchools. ImmSchools is an immigrant-led nonprofit organization that seeks to close the gap between immigration and education by working with schools to create safe and welcoming classrooms for immigrant and undocumented students.

Prior to launching ImmSchools, Viridiana worked as the national managing director for Deferred Action for Childhood Arrivals (DACA) at Teach For America where she led the organization's efforts to recruit and place teachers with DACA in classrooms throughout the country. She began her journey as an immigrant activist in 2004 by co-founding a grassroots organization dedicated to organizing and informing undocumented students of their rights and access to higher education.

Viridiana was born in Michoacán, Mexico and immigrated with her family to the United States when she was 11 years old. As a former undocumented immigrant, Viridiana is passionate about advocating and supporting undocumented students and their families. She has been recognized by the League of United Latin American Citizens and the Austin Chamber of Commerce for her leadership and dedication to the immigrant community.

Viridiana holds a bachelor's degree in Spanish literature and communications from the University of Texas at Austin. After 14 years, she became a United States citizen in 2016 and currently resides in San Antonio, Texas.