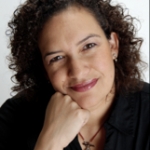 Director, Ford Global Fellowship
Adria Goodson is the director of the Ford Global Fellowship at the Ford Foundation. With a $50-million investment over 10 years, the Ford Global Fellowship aims to connect and support the next generation of social justice leaders who are advancing innovative solutions to end inequality from all 11 regions in which Ford operates around the globe. Adria is a moderator for the Pahara Institute and for The Aspen Institute. She serves on numerous non-profit boards and is an active citizen in our democracy.

Prior to The Ford Foundation, she served as Chief Program Officer for the Pahara Institute. From 2005 to 2015, she was the founding director of Hunt Alternatives' Prime Movers fellowship program, a program that supported social movement leaders in the United States. Adria served on the faculty of Harvard University's Graduate School of Education teaching personal mastery courses for a decade. Over her career, she has developed deep expertise in leadership development programs, fellowship and community design, and individual coaching and development with the sole purpose of supporting social justice, non-profit, and education leaders in changing the world for the better.

Adria earned her PhD from Boston College in sociology, specializing in social movement theory, public policy, and philanthropy. She has authored several pieces on movement leadership and has been a featured speaker at TedXBeaconStreet.