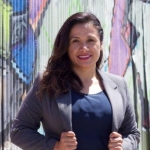 Wonderful college preparatory academy
Ana Martinez is the chief of staff to the Chief Schools Officer of Aspire Public Schools, a college preparatory charter management organization of 40 schools and 17,000 students. She supports in leading the superintendent team, as well as the Student Support Services Directors which serve schools in Los Angeles, the San Francisco Bay Area and in the Central Valley of California, as well as in Memphis, Tennessee. In addition, her most current work is with Aspire in creating and launching its diversity, equity and inclusion council. Ana leads with a foundation of love, hope, equity-focused pedagogy, and strong instructional knowledge. She understands and believes that true change will happen when we connect ourselves to those we serve.

Prior to her time at Aspire, Ana served in several school site positions in the South Los Angeles and Huntington Park, California communities. She has served in several turnaround schools within public and charter systems and has transformed staff and student culture by establishing strong relationships and creating consistency in practice. Ana was also a founding principal in South Los Angeles, California eight years ago. Her work with school culture, as well as a strong instructional program resulted in low behavior incidents and a less than 1% suspension rate. The work of culturally responsive pedagogy is very important to her, which is why she has led professional developments centered in equity and self-identity to Teach For America alumni in the Los Angeles area and educational audiences at New York University.