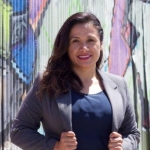 Wonderful college preparatory academy
Ana Martinez is the Superintendent of Wonderful College Preparatory Academy, a college preparatory charter management organization of 4 schools in the Central Valley of California which serves a large rural community.

Ana started her career in the same district she attended the majority of her K-12 career- Los Angeles Unified School District. She is a Teach for America alumni corp member that started her teaching career in a large comprehensive middle school in South Los Angeles. She also served as a Dean of students at another LAUSD middle school, where she embarked on turn around work and grew her background with culture and systems change at her school.

In 2009, Ana transitioned to Aspire Public Schools where she continued her turn around work in their Huntington Park middle school as a Dean of students and as then as the Assistant Principal. Her most impactful and humbling role was that of a founding Principal in South Los Angeles where she opened up an Aspire school under LAUSD's Public School Choice model and led that school for eight years. She is proud to have created and sustained a culturally responsive and high instructionally focused learning community for students. The last three years of her leadership, her school had seen remarkable growth and was one of the leading schools in South Los Angeles.

After her time as principal, she held roles like director of leadership initiatives and chief of staff to the Chief School officer. She also consults and works coaching school and systems leaders. Ana leads with a foundation of love, hope, equity-focused pedagogy, and strong instructional knowledge. She understands and believes that true change will happen when we connect ourselves to those we serve and lead with us values.