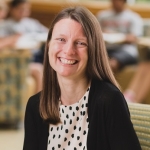 Beth Anderson is the executive director of Hill Learning Center in Durham, North Carolina. Hill Learning Center is a hub for equitable and differentiated, research-based practices for supporting students with learning differences and attention challenges. Through a range of K-12 student and educator programs, and strategic partnerships with leaders in the field, Hill aspires to ensure students with learning and attention challenges receive the instruction and support they need, regardless of where they attend school or whether they have a formal diagnosis. Among it's various programs, Hill has developed a distinctive, small group reading intervention - the Hill Reading Achievement Program (HillRAP) - that has proven successful at closing foundational gaps for students with persistent reading difficulties. HillRAP is implemented within Hill's Student Programs and by trained teachers in district, charter, and independent schools and nonprofits in 9 states.

From 2007-2014, Beth was a senior leader at Teach For America (TFA), playing an instrumental role in establishing and building TFA's national development strategy, team, revenues, and relationships through a period of rapid growth. Beth was also a lecturer at Duke University's Fuqua School of Business, where she was the co-founder and managing director of the Center for the Advancement of Social Entrepreneurship (CASE), a research and education center dedicated to preparing leaders with the entrepreneurial and business skills needed to achieve lasting change. Previously, she was a research associate at Stanford's Center for Social Innovation. Her professional experience also includes working within the grassroots U.S. Olympic Movement and with an outdoor education center for people with disabilities.

Beth served on the founding boards of 4.0 Schools in New Orleans and Root Cause in Boston is on the advisory boards for CASE and KIPP Durham College Preparatory. Beth holds a BA in classics from Williams College and an MBA from Stanford's Graduate School of Business.