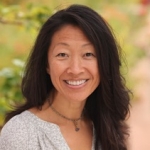 Chi Kim is chief executive officer at Pure Edge, Inc., a foundation dedicated to improving the health and well-being of educators and the students they serve by supporting the development of social, emotional and academic competencies with an open heart and open mind. Chi is an experienced leadership coach, superintendent, principal, and teacher in both suburban and urban public school districts.

Chi also served as a program officer at the Bill & Melinda Gates Foundation on the US Programs, college ready team. Chi is co-founder of the teaching garden program adopted by the American Heart Association, and the recipient of several awards including eSchool News 2014 Tech Savvy Superintendent Award, three California Distinguished School Awards, People for Parks Honoree, Global Citizen Award, PTA Golden Oak Service Award.

Chi serves as the chair of the Board of Trustees Great Minds NonProfit, and board member of CASEL, YouthBuild USA, FECOP and as a national advisor board of the COVID Collaborative and member of the Partnership for American Democracy National Leadership Council.

Chi has been trained and certified by the National Institute for School Leadership in Washington DC. She earned her bachelor's degree in psychology and a master's degree in education from UCLA and holds a Tier I administrative services credential from California State University Dominguez Hills and Tier II administrative services credential from Loyola Marymount University.