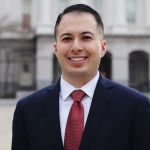 Vice President, Enterprise Planning
Arizona State University (ASU)
Christian Osmeña is vice president for enterprise planning at Arizona State University, where he provides leadership on long-term strategic financial planning.

Before joining ASU, Osmeña served for more than a decade as a leader in California state government. Most recently, he was vice chancellor for the California Community Colleges, the largest system of higher education in the United States. In this role, he led the team responsible for finance and facilities planning, including the distribution of $7 billion across California's 73 community college districts, and was specifically charged with aligning the system's budget policy with the Vision for Success, the system's plan to dramatically improve student outcomes and close equity gaps by 2025. Earlier, he worked at the California Department of Finance, the California Governor's budget office, where he served as a principal program budget analyst responsible for higher education programs, as a budget analyst covering K-12 and higher education budgets, and as a legislative analyst. He also served in the California Office of the Governor as the assistant to the Governor's chief of staff and as a deputy cabinet secretary.

Osmeña earned a doctorate in education from the University of California, Davis, a master's degree in public administration from the University of Southern California, and a bachelor's degree in political science from the University of California, Berkeley.