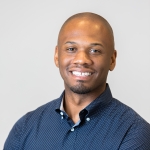 Dominique Lee is the founder and chief executive officer of the BRICK Education Network (BEN), a non-profit organization that uses schools as an anchor of a comprehensive strategy to support children with the tools and resources to realize their fullest potential. It is the belief of BEN that children and families left on the margins of our society need a comprehensive, sustainable strategy centered on early childhood, education, affordable quality housing and gainful employment to break the cycle of generational poverty and this work can be accomplished through partnership and collaboration.

Prior to founding BEN, Dominique was a Teach For America teacher in Newark, NJ. In 2009, Dominique's work was profiled on the front page of the New York Times, and in 2019 he was honored with the Charter School Leadership Awards from the National Alliance for Public Charter Schools. Dominique serves on the board of Lead Charter School - the first charter school in the state of New Jersey designed specifically for opportunity youth.

Dominique is a Pahara-NextGen Fellow from the inaugural cohort of Spring 2014. He earned his master's degree from New York University in education leadership and his bachelor's degree in political science from the University of Michigan.