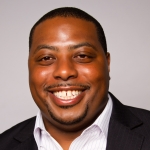 Founder & Managing Partner
Dr. Ebbie Parsons, III is the founder and managing partner of Yardstick Management. Yardstick provides specialized management consulting services to renowned mission-driven organizations. Ebbie, a seasoned business executive with a passion for education, has been applauded for his strategic thinking, engaging leadership and results orientation throughout his career.

Prior to launching Yardstick, Ebbie served as the chief operating officer of the third-largest Charter Management Organization in the U.S., Mosaica Education, Inc. At Mosaica, Ebbie managed over 80 schools across eight states, Washington, D.C., the Middle East and Asia. Ebbie joined Mosaica after serving on the founding team of the Relay Graduate School of Education where he led the Human Capital function of the organization. Ebbie's introduction to the Education sector was via the Broad Residency program in Educational Leadership where he served as the acting chief operating officer of Hartford Public Schools in Hartford, CT. Ebbie's previous experience also includes leadership roles with American Express, Medtronic and Intel.

Ebbie holds a BS in industrial engineering from Florida A&M University, an MBA from the University of Minnesota, and a Doctorate in Educational and Organizational Leadership from the University of Pennsylvania. He has also served as a faculty member at the University of North Carolina and at the University of Southern California. Ebbie resides in Atlanta, GA with his wife, Ayana, and their adorable daughters, Ebbie Noelle aka "Noey", and Noohra Celeste.