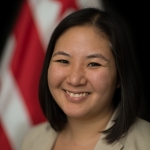 The Broad Center at Yale School of Management
Hanseul Kang is Assistant Dean and the first Anita and Joshua Bekenstein Executive Director of The Broad Center at Yale SOM.

Most recently, Kang served as the District of Columbia State Superintendent of Education from 2015 to 2020. She provided strategic vision, clear direction, and steady leadership to D.C.'s state education agency, the Office of the State Superintendent of Education (OSSE), which serves over 90,000 students in public schools across more than 60 local education agencies. Under Kang's leadership, the District of Columbia continued to make major strides in student achievement outcomes as OSSE took important steps to sustain, accelerate, and deepen this progress for all students. Specifically, D.C. students demonstrated significant growth each year in the percentage of students scoring at college- and career-ready levels on its rigorous state assessments for English language arts and math; made gains in both participation and performance on the SAT and on AP exams; and saw the most growth of any state or urban jurisdiction in the country on the National Assessment of Educational Progress (NAEP), also known as Nation's Report Card, over the past decade.

Under Kang's leadership, OSSE spearheaded programmatic initiatives in early childhood education, improved access to information for a range of stakeholders, and made core operational improvements. Over the last five years, OSSE has made multimillion-dollar investments in and launched significant new supports for early childhood education that have led to improved quality and expanded access for children and families across the District. In 2018, OSSE launched the D.C. School Report Card. Developed in partnership with the voices of more than 4,000 family and community members, the report card provides, for the first time, the opportunity to learn about the performance of every traditional public school and public charter school in the District of Columbia in a comprehensive and comparable way. Kang also led key operational improvements to better support stakeholders, including a Start of School Campaign to transform the way local education agencies and schools experience the start of the school year and better equip them with information and resources to get off to a great start with their students.

Kang previously served as chief of staff for the Tennessee Department of Education from 2011 to 2015, as the state implemented major policies and programs under Race to the Top and made significant gains in student achievement outcomes. As chief of staff, she led talent strategy for the department, including recruitment for key roles, implementation of a 360-degree feedback process for all staff members, and the reimagining of the department's regional office structure to move from solely focusing on monitoring and compliance to supporting the school districts in each region in improving student achievement outcomes.

Before that, Kang worked as a managing director of program in Teach For America's D.C. regional office, managing a team of instructional coaches supporting teachers across DCPS and D.C. public charter schools. She started her career as a high school social studies teacher in rural New Mexico.

Kang holds a BS in international politics from Georgetown University and a JD from Harvard Law School. She was a Jack Kent Cooke Foundation Graduate Scholar and a member of The Broad Residency (TBR 2012-14).