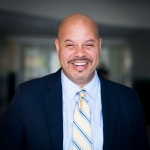 Jeremy Beard is head of schools at YES Prep Public Schools and has been with YES since 2014. Recently, he worked as the national director of programs for Blueprint Schools Network and currently is a member of their National Board of Directors. Prior to his work with Blueprint, he helped lead the Apollo 20 Project in Houston Independent School District as the Apollo 20 school improvement officer. Jeremy served for five years as principal of IDEA College Preparatory, in Donna, Texas, a 6-12 campus.

In 2009, Jeremy received the Peter Jennings Award for Civic Leadership for his work at IDEA. IDEA College Prep is one of the few IB schools in the world that expects 100% of its predominantly low-income, minority population to go through the rigorous Middle Years and Diploma Years Program. His campus was ranked #13 by U.S. News & World Report in 2009 out of 21,000 High Schools in the United States. In 2006, Jeremy received the Morton Deutsch Award for Social Justice from Columbia University. Jeremy joined IDEA in 2002, as an English teacher then later as a director of college counseling, and assistant principal, after serving for three years as the program director for Teach For America - Baltimore.

Jeremy entered the field of education via Teach For America as a 1995 Los Angeles corps member and taught fifth grade ESL, in a special education inclusion class for four years. He holds a BA in English and a BA in African-American studies from the University of Maryland, and completed his MEd at Columbia Teachers College.