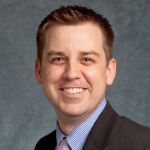 Executive Vice President - Talent & Operations, & Chief Financial Officer
Joshua Griggs is executive vice president of talent and operations, and chief finance officer of Teach For America (TFA). He is responsible for ensuring TFA is a strong 21st century organization that can sustain its work and accelerate its impact toward its vision. Joshua has spent the past eight years leading the teams responsible for the critical functions that comprise TFA's infrastructure, resources, and strategy across regions and national functions including finance, real estate & facilities, human assets, information technology, legal affairs, and risk/compliance.
Previously, Joshua was a part of the TFA admissions team for five years and served as vice president of admissions for three years. During this time, he oversaw major changes and projects related to the corps member selection process and strategy. He joined the staff in 2005 as a recruitment director, where he created campaign strategies to identify and compel graduating seniors to join the TFA program. Prior to joining TFA's staff, Joshua joined the program as a corps member and taught third and fourth grade in the Bronx, New York City.

Joshua earned a BA from Yale University in economics and international studies and an MS in teaching from Fordham University. He lives in Atlanta with his wife Kerri and their two daughters, Maya and Camille.