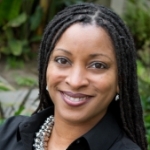 LaShawn Routé Chatmon is the founding executive director of the National Equity Project, leading the organization's successful transition from the Bay Area Coalition for Equitable Schools (BayCES). Under her leadership, the National Equity Project has become one of the leading voices in a movement to change the conversation and approach used to achieve racial equity in education.

Previously an educator in private and public schools, she served with Dr. Pedro Noguera as Co-Director of The Diversity Project, a school-university partnership designed to address racial disparities in Berkeley, CA.

LaShawn is a contributing author in the book Class Dismissed: A Year in the Heart of An American High School a Glimpse into the Heart of a Nation and has presented at numerous education conferences and convenings across the country. She was a MetLife Teaching Fellow, a 2015 LeaderSpring Fellow, and a Pahara Aspen Fellow. LaShawn earned a Bachelor of Arts in political science from University of California, Berkeley; a Masters of Arts in teaching from Brown University; and completed California State University, Sacramento's Urban Leadership Program. LaShawn is a California native and resides in Oakland, CA with her husband and their three sons.