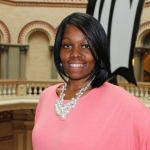 Deputy Superintendent for Community Empowerment, Innovation, and Partnerships
Dekalb County School District
Melissa Harris currently serves as the Deputy Superintendent for Community Empowerment, Innovation, and Partnerships for the Dekalb County School District. Previously, she served as senior executive director for the New York City Department of Education (DOE), Office of School Design and Charter Partnerships. In this role, Melissa was a senior advisor to the Chancellor, managing the Department's new school pipeline; overseeing charter school authorization, policy, operations and finance; and leading the Department's school redesign team.

Melissa has over a decade of experience in education policy and government relations. As a native New Yorker, Melissa has devoted her career to improving access to high-quality education for all children in New York City regardless of zip code and economic background.

In her prior role as executive director for policy and planning, Melissa oversaw the creation of high-level policy, strategy and policy implementation, which spanned across the DOE. Additionally, Melissa has served in a number of external facing positions where she played a primary role in reshaping the landscape of family and community engagement to support thousands of families served by the DOE.