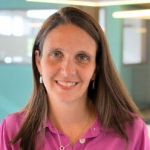 Founder & Chief Executive Officer
Melissa Zaikos is founder, chief executive officer, and former principal of Intrinsic Schools, a 7th-12th grade charter school in Chicago with plans for growth. In addition to her role at Intrinsic, Melissa leads multiple principal cohorts designed to foster collaboration between district and charter schools in Chicago. Prior to founding Intrinsic, Melissa spent nine years at Chicago Public Schools where she last led the Pershing Network, a network of 30 elementary schools in the Southwest communities of Chicago. From 2005-2011, Melissa was the Chief Area Officer for a network of 100 high performing schools throughout the city. In 2006, she led a team to secure a $21.3 million grant for the district high school transformation strategy, the largest grant to date at that time from the Gates Foundation to a public school district.

Melissa was a member of the Broad Fellowship for Education Leaders in 2011 and the Broad Residency in Urban Education from 2003-2005. She earned her MBA from the Harvard Business School and a bachelor's degree in industrial engineering from Texas A&M University. Melissa lives in Chicago with her husband and two children.