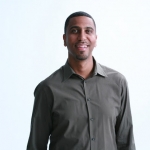 Vice President of People & Operations
Odiaka Gonzalez is VP of People & Operations at Global Citizen Year. Prior to his position, he was the executive director for Oakland Leaf, a nonprofit that utilizes creative education to develop young leaders to become agents of change in their community.

Odiaka has a long history with nonprofits and socially conscious organizations. He spent six years with Revolution Foods as the director of training. During this time, he helped grow the company from serving healthy, fresh meals to only California schools to serving schools nationwide. Before Revolution Foods, Odiaka spent nine years with Playworks, a national youth development organization, developing and training staff, creating curriculum, and supporting the growth of the organization as the East Bay program director. Odiaka is passionate about youth development and leadership. He has integrated best practices from both the nonprofit and corporate world to balance his approach and efforts to bring long-term sustainability to organizations, while providing high quality programming and services to youth.

Odiaka was raised in Atlanta, Georgia in a household that was centered around art, creative expression, and community service. He graduated from Morehouse College with a bachelor's degree in psychology. His creative outlet is djing, and he loves to collaborate with other Oakland musicians to bring innovative sounds in the form of community celebrations.