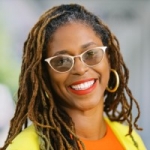 Founder & Chief Executive Officer
Rhonda J. Broussard (she/her/hers) is an author, entrepreneur, and futurist. As the Founder & CEO of Beloved Community, Rhonda works at the nexus of Equity in Schools, Equity at Work, and Equity at Home. Rhonda founded Beloved Community to create sustainable paths to regional racial and economic equity. Her vision for Beloved Community is informed by her leadership in education and Rev. Dr. Martin Luther King Jr.'s goal "to create a beloved community" that would "require a qualitative change in our souls as well as a quantitative change in our lives."

Rhonda is steadfast in her commitment to community engagement and leadership as a Highland Leader, a Tulane Mellon Fellow, a Pahara-Aspen Fellow and an Eisenhower Fellow. She currently serves as the Chair of the Board of Directors of EdNavigator, the Treasurer of Dat School Agile Learning Center, and Director of Diverse Charter Schools Coalition. Rhonda has earned a Bachelor of Arts in French and Secondary Education from Washington University in St. Louis, a Masters of Arts in French Studies from The Institute of French Studies at New York University, and has studied in Cameroon, Martinique, Finland, New Zealand and metropolitan France. Rhonda is the author of One Good Question: How Countries Prepare Youth to Lead. You can find Rhonda, her partner Kim, and her bilingual family living on native Bulbancha land also known as New Orleans, Louisiana where she studies, performs, and teaches dances from the African diaspora.