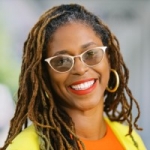 Founder & Chief Executive Officer
Rhonda Broussard founded Beloved Community to create sustainable paths to regional economic equity. Beloved Community works at the nexus of Equity in Schools, Equity at Work, and Equity at Home. Her vision for Beloved Community is informed by her education leadership and Reverend Dr. Martin Luther King Jr.'s goal "to create a beloved community and this will require a qualitative change in our souls as well as a quantitative change in our lives."

Rhonda has been a leader in diversity and international education initiatives throughout her career. In 2007, she founded St. Louis Language Immersion Schools (SLLIS), a charter management organization serving an intentionally diverse school community with language immersion and International Baccalaureate pedagogy for all students. Under Rhonda's leadership, the first three schools in the network became IB World Authorized Schools, and SLLIS achieved an AYP of 92%, equivalent to Accreditation with Distinction from the Department of Elementary and Secondary Education. Rhonda was a National Board Certified Teacher who taught in New York City; West Hartford, Connecticut; Los Angeles, California; and Ferguson, Missouri.

Rhonda is a Pahara-Aspen Institute Fellow and an Eisenhower fellow. She completed her undergraduate studies in French and secondary education at Washington University in St. Louis and holds a master's degree in French studies from New York University's Institute of French Studies. She has studied education in Cameroon, Martinique, metropolitan France, Finland, and New Zealand. Rhonda currently serves as chair of the Board of Directors of EdNavigator and treasurer of Dat School Agile Learning Center. Previously, Rhonda served on the boards of the Missouri Charter Public School Association, PROMO - Missouri's LGBT Advocacy Leader, and Campus YMCA-YWCA.

Rhonda lives with her partner, Kim, and two children, Olivia and Oscar, in her native Louisiana. She studies, performs, and occasionally teaches dances from the African diaspora.