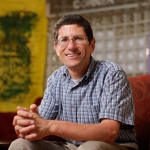 Steven Dow has served as executive director of Community Action Project of Tulsa County (CAP Tulsa) since 1992. CAP Tulsa embraces a two-generation, anti-poverty strategy which focuses on providing high-quality early childhood education coupled with comprehensive family support services. CAP Tulsa currently serves more than 3,000 young children in center and home-based early education. CAP Tulsa operates CareerAdvance—a sector-based workforce training effort which is preparing the parents of the young children it serves for careers in the healthcare sector.

CAP Tulsa has received national recognition for its innovative and effective approaches, having been honored in the initial class of the Annie E. Casey Foundation's Family Counts National Honors program, a member of the Fannie Mae Foundation Alliance, and named as a National Head Start Center of Excellence. For the last two years, CAP Tulsa has been recognized by the NonProfit Times on its list of Best Places to Work.

Steven is a 2012 Aspen Institute Ascend Fellow and serves on numerous boards. He and his wife, Stacy, have been married for 26 years and have three daughters.