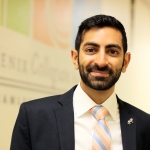 Vice President, Municipal Finance (Education)
Akshai J. Patel is vice president, in the municipal finance group, at RBC Capital Markets focused on capital finance projects for K-12 education. He is a team lead for Social Bonds, guiding the first issuance of a Social-designated bond in the charter school sector for Fenton Charter Public Schools in CA, among several subsequent offerings.

In 2018, he authored a unique merger of two high performing charter networks - one he co-founded and one sponsored by Arizona State University. He served as ASU Preparatory Academy's chief strategy officer after the merger, helping create a growth plan for the network to bring college preparatory programs and college access to rural, reservation, and incarcerated youth communities across Arizona. Prior to the merger, Akshai was the chief executive officer of Phoenix Collegiate Academy (PCA), a K-12 network of free public charter schools in South Phoenix with the mission of preparing students to succeed in college and be leaders in the community. Akshai is also the lead founder and board member of DeansList, an education software company that helps high-performing schools nationally use data to improve results, and he is a part-time instructor at the Arizona State University (ASU) Public Service Academy.

Motivated to change South Phoenix students' lives permanently by helping them find a path to college, Akshai joined fellow Teach For America alumni to help found PCA. The school was recognized on multiple occasions since its inception in 2009 for academic results and management. It is the first seamless pre-K to College pathway in the community.

Akshai was awarded a Fulbright Grant to study and teach at la Universidad de Concepción in Southern Chile. Akshai earned his MBA at Columbia University and M.Ed at Arizona State University. He attended Barrett College at ASU, and graduated summa cum laude with bachelor's degrees in both economics and in political science.