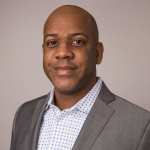 Al Motley is a technology thought leader and also the founder and managing partner at Techademics, a technology company focused on innovation in education, social impact, philanthropy, and the nonprofit sector. Al is a nationally recognized expert in the intersection between responsible and innovative use of technology to deliver online learning for K-12, higher education and adult learners. Al supports many organizations through his CIO & CTO as a service model where he embeds himself in organizations in a part-time role to build the internal capacity for a high-level technology executive or department. An example of this service is his role as the Chief Technology Officer Lead for Gallaudet University, a school for deaf students in Washington DC, where he is supporting their academic continuity task force as they made the shift to 100% online learning in response to the COVID-19 pandemic. Al is also working on current initiatives at The United Way where he is responsible for leading and directing the strategic use of information systems and technology to advance philanthropic giving and volunteerism in Greater Philadelphia and Southern New Jersey. He also has served as an outsourced CIO for Philanthropi a national Fin-Tech platform that seeks to democratize Donor Advised Funds in order to empower communities with more philanthropic funds.

A mission-driven leader with extensive experience in executive management, Al has served as chief technology officer for Matchbook Learning, a national education management company, and has provided information technology leadership for Philadelphia's Mastery Charter Schools, technology services for government clients, and venture investment analysis for various tech companies and young entrepreneurs. He also served as a key technical advisor for the Congressional Black Caucus Foundation from 2013-2016.

Al is a Pahara Aspen Institute Fellow and holds a certification in Agile CSM project management. In addition, Al serves on the board of trustees as chair for the Learning Accelerator and also serves on the board of The Education Law Center in Pennsylvania. Al also has served as an instructor and mentor for the University of Pennsylvania's Capstone Education Entrepreneurship Masters Program.