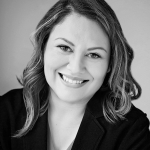 Assistant Director for Tennessee
Alexza is the assistant director for Tennessee at The Education Trust. She advises the State Director and develops strategic goals and key initiatives to move forward The Education Trust in Tennessee's mission to advocate for equitable education for historically-underserved students across the state.

Prior to joining The Education Trust, Alexza led the day to day operations of the Tennessee Educational Equity Coalition, an influential leader in the K-12 policy arena in Tennessee. She oversaw communications, research and policy development, staffing and project management. Prior to her work in the education justice movement, Alexza was a producer for some of the nation's most high-profile television news programs including CNN's "Anderson Cooper 360," and "The Nightly News with Brian Williams."

A daughter of Mexican immigrants and native of Southern California, Alexza earned a doctoral degree in communication studies from the University of Utah, a master's degree in mediated communication from Pepperdine University, and an undergraduate degree in rhetoric and broadcast journalism from California State University, Long Beach.