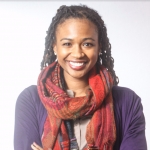 Director, Environmental, Social, & Governance (ESG) - Social Impact
Alia McCants is an avid runner, womanist, and proud nerd. As the director, Environmental, Social, & Governance - Social Impact at Peloton, Alia builds out, designs, and implements a strategy to disrupt systemic inequities.

This work builds on Alia's background addressing those same inequities through education, including through her long careers at Relay Graduate School of Education and the Match School.

She is a proud alumna of Spelman College and Columbia Business School, where she received the Forté fellowship, the Feldberg fellowship, and the Student Service Award for her focus on servant leadership on campus.

Alia originally hails from San José, California. She currently resides in White Plains, New York with her husband and twin children, who attend their local elementary school.