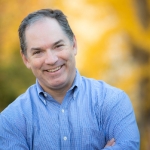 Andrew Rotherham is a co-founder and External Relations leader at Bellwether Education Partners, a national nonprofit focused on dramatically improving education and life outcomes for systemically marginalized young people and their communities. Rotherham, who also serves on the Virginia Board of Education, occupies a unique place in the U.S. education sector working across silos. He has been appointed to senior policymaking roles by Democrats and Republicans, works at the intersection of research and policy, media, and practice, and is a longtime champion of heterodoxy, empiricism, and pragmatism in education policy.

Rotherham writes the blog and newsletter Eduwonk.com. In addition to Bellwether, he founded or co-founded two other education organizations and served on the boards of several successful education startups. He served at the White House as special assistant to the president for domestic policy during the Clinton administration, as a member of the Virginia Board of Education appointed by then-Gov. Mark Warner and more recently by Gov. Glenn Youngkin, as an education columnist for TIME magazine, and as a contributing editor at U.S. News & World Report. He also taught in traditional and experiential settings at the K-12 and college levels.

Rotherham is the author or co-author of more than 450 published articles, book chapters, papers, and op-eds about education policy and politics, and is the author or editor of four books on education policy. He serves on the board of directors for The 74, a national education media organization, and on the international board of directors for Classroom Champions, a Canada-based nonprofit that pairs Olympic and Paralympic athletes with high-poverty classrooms as mentors. Rotherham advises a variety of companies and organizations, including Whiteboard Advisors; Upbeat, a data analytics company focused on teacher engagement and retention; ClearForce, a security and threat prevention company; and several nonprofit organizations.

Outside of his professional work, Rotherham raises tens of thousands of dollars each year to support the Dana-Farber Cancer Institute, is an EMT, and he and his wife, a public high school English teacher, host a concert series featuring regional and national musical acts in a former one-room schoolhouse. A father of two daughters, he lives in Virginia.