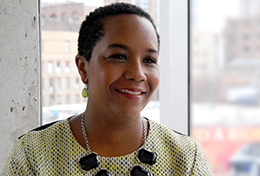 Angela is founder and chief executive officer of FirstGen Partners LLC, a firm that helps social enterprises launch and lead strategic initiatives.

Angela has over two decades of experience in the areas of diversity, community development, strategic philanthropy and change management. Most recently, Angela spearheaded the New Options Project, a 3-year, $28M time-limited social venture incubator focused on opportunity youth and employment. Prior to New Options, she served as the first chief diversity officer at Teach For America where she led organization-wide diversity and inclusion efforts.

Angela has extensive experience launching and leading new philanthropic efforts and business ventures. She directed over $25M in new Chicago community investments for Allstate and created the company's Domestic Violence Program. Angela also helped launch and bring Monster's Diversity division to profitability. She began her career at Deloitte where she served as an audit associate and consultant in the change management practice. She also managed the firm's diversity and community outreach programs.

Angela received her MBA from Northwestern University and is a 1993 graduate of the University of Notre Dame where she received a BBA in Accounting.