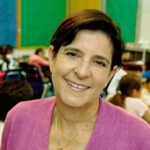 Anita Landecker is president and chief executive officer of ExED, a nonprofit organization that develops and manages public charter schools in inner-city neighborhoods in Southern California. Today, ExED serves as the "CFO" to over 100 charter schools. Through the New Markets Tax Credit program, ExED also provides affordable financing to charter schools to construct new facilities. Prior to joining ExED in 1999, was regional vice president for the Local Initiatives Support Corporation (LISC), where she raised over $1 billion for investment in affordable housing.

Anita has taught graduate school courses at UCLA and USC. She served as chair of the Los Angeles Board of Directors of the Federal Reserve Bank of San Francisco. She recently was a senior fellow at USC's Brittingham Social Enterprise Lab, and awarded a Stanton Fellowship from the Durfee Foundation.

Anita received her master's degree in city planning from Massachusetts Institute of Technology (M.I.T.) and bachelor's degree from the University of California at Santa Barbara.