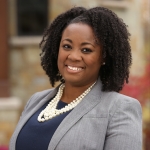 Chief Executive Officer & Founder
Dr. Annis Stubbs is CEO and founder of The Papyrus Group (TPG), a human capital services firm specializing in executive coaching, strategic consulting and talent searches. She is also CEO and co-founder of Stubbs Logistics, a logistics firm with over 150 employees and Fortune 500 clients like Amazon.

Dr. Stubbs has been honored by Crain's Business, The Detroit News, The Michigan Women Leadership in the Workplace council and The Michigan Chronicle. She has also been a featured speaker at The Clinton Global Initiative, The Revitalization and Business Conference at The University of Michigan and Techonomy -- to name a few. Dr. Stubbs believes in personalized support. She helps leaders maximize their impact and fully lean in to all that they have learned in their years of work and service. She brings nearly 20 years of education sector experiences & relationships to the table to help organizations thrive. Annis is a warm and open communicator and she's known for her purposeful follow through.

Dr. Annis Stubbs has led impactful work at a variety of organizations including The New Teacher Project (TNTP), Columbia University and Sylvan Learning Centers. Most recently, she was the Chief People Officer at Teach For America (TFA) where she served for several years in a variety of leadership roles including: Senior Vice President, Leadership & Diversity; Senior Vice President, Strategy & Innovation and the founding Executive Director of TFA-Detroit. Dr, Stubbs is an Aspen Institute Fellow and Resnick Scholar. She completed her Ph.D. at Michigan State University in their top ranked Curriculum, Teaching and Educational Policy program. She also earned a master's degree from Fordham University in New York City and an undergraduate degree in English and Education. She has held scholarly leadership positions in the American Educational Research Association in the educational policy division, special interest groups and as chair of the graduate student governing body. She leans into her role as an entrepreneur -- and is helping more women enter the logistics and transportation industry.

Annis enjoys traveling around the world, yoga, epic novels and spending time with her husband and 2 spaniel poodle mixes on trails along Michigan's Great Lakes shores.