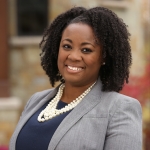 Chief Executive Officer & Founder
Dr. Annis Stubbs is CEO and founder of The Papyrus Group, a professional coaching and consulting firm. She helps leaders maximize their impact and fully lean in to all that they have learned in their years of work and service. She brings all of her experiences to the table to help organizations thrive. Annis is a warm and open communicator and she's known for her purposeful follow through.

Annis was recently chief people officer at Teach For America, and led the Human Assets team. Previously, a senior vice president of leadership and diversity, she and her team worked to execute key components of diversity models, events across the teacher and alumni network, and led values-based leadership development work. Prior to this role, she was a senior vice President of strategy, innovation and regional operations. She and her team partnered with colleagues to design and execute key components of TFA's shift to a decentralized operating model: the Regional Advisory Council, Regional Reviews, Freedoms and Mutual Responsibilities, and the approach to accountability.

Annis began her work as the founding executive director of the TFA Detroit region. Before joining TFA's staff, she worked at Sylvan Learning Center as a coach and coordinated teacher training and support for teaching fellows with The New Teacher Project in NYC. She began her career as a middle school teacher in the South Bronx.

Annis earned a PhD in curriculum, teaching and educational policy from Michigan State University, an MA in curriculum and instruction from Fordham University, and a BA in English and secondary education from Michigan State University. She serves on a number of non-profit boards in her community and was honored as a Crain's Detroit Business 20 in their 20's, Michigan Chronicle's 40 Under 40, and with the Michigan Women in Leadership in the Workplace Shooting Star Award. She enjoys traveling with her husband Kendall, practicing yoga, and summers along Michigan's Great Lake shores.