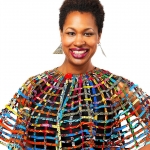 Carmita Semaan is the Founder and President of The Surge Institute. Carmita passionately supports and elevates the genius of emerging and seasoned leaders and shines a light on the brilliance and ingenuity that is too often overlooked and untapped in solving systemic issues. The Surge Institute is dedicated to the liberation, advancement, and growth of youth and communities of color. The Institute's signature Fellowship is educating and elevating diverse leaders, preparing them to transform systems and expand opportunities for all people.
After starting her career as an engineer and strategist for multiple Fortune 500 companies, corporate America could not contain Carmita's desire to lead initiatives that benefit youth and revitalize communities - so she blazed a trail within the non-profit sector, primarily in K-12 education. Carmita's commitment to serving our country's young people led her to over a decade of executive service, driving results for visionary leaders including Alma Powell, Gen. Colin Powell, and Arne Duncan, the former US Secretary of Education.
Though an adopted Chicagoan, Carmita hails from Birmingham, AL, and proudly professes that her hometown made her who she has become. Birmingham's history has greatly shaped what she feels called to do and the hustle, horsepower, and heart she exhibits.
Carmita holds an MBA from Northwestern University's Kellogg School of Management, and a BS in Chemical Engineering from the University of Michigan.