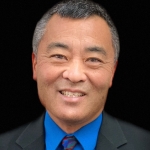 Santa Barbara Unified School District
Cary Matsuoka retired as the superintendent of the Santa Barbara Unified School District in June 2020. Prior to assuming district leadership of Santa Barbara Unified in 2016, Cary was superintendent in Milpitas Unified from 2011-2016 and Los Gatos-Saratoga High School District from 2006-2011. He has been in a leadership role in public education since 1997, mostly in Silicon Valley school districts.
Cary taught high school chemistry, AP computer science, physics, and math for 17 years, mostly at Saratoga High School. He served on the AP Computer Science test development committee from 1995 to 1999 and co-authored the Teacher's Manual for the Marine Biology case study used in AP Computer Science in 1998. Cary also serves on the board of The Learning Accelerator and has been leading innovation in public school districts for the last decade.
Cary usually lives in Santa Barbara with his wife Polly, returning home to the place where they got married in 1980. For a season, they are living in Brooklyn, NY with their son, daughter-in-law, and grandson, helping out as grandparents-in-suite.