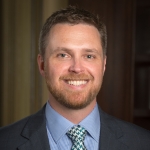 Partnership Schools Cleveland
Christian Dallavis is regional superintendent of the Partnership Schools, a Catholic school network that transforms urban Catholic schools into economically sustainable, operationally efficient, and academically excellent schools. Christian leads the Partnership Schools in Cleveland, Ohio, where the network operates four urban Catholic K-8 schools. Christian supports network school leaders' capacity to build intentional Catholic school culture, ensure high-quality teaching and learning, and grow enrollment in the Partnership's schools in Cleveland as well as in the network's seven schools in Harlem and the Bronx.

Christian spent 16 years on the faculty at the University of Notre Dame, where he was the senior director of leadership programs and an associate teaching professor of educational leadership in Notre Dame's Alliance for Catholic Education (ACE).

As the director of the Mary Ann Remick Leadership Program, Christian redesigned Notre Dame's master of arts in educational leadership and doubled the size of the nation's largest preparer of Catholic school leaders. He was the founding director of the Notre Dame ACE Academies, a model for university-school partnership that comprised 15 schools in Arizona, Florida, and Indiana. His team also led the design and launch of the Center for Transformational Educational Leadership, a professional formation institute for sitting principals serving the Archdiocese of Chicago.

Christian earned a joint PhD in English and education at the University of Michigan, where he studied the intersection of culturally responsive pedagogy and urban Catholic schooling in immigrant communities. After completing a BA at Notre Dame in English and Japanese, Christian taught middle school English in Biloxi, Mississippi while earning an MA in teaching from the University of Portland, and later worked as a teacher educator in Bangladesh.