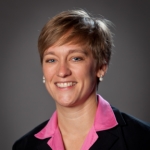 City Garden Montessori School
Christie Huck is CEO of City Garden Montessori School in St. Louis, Missouri. With a background in community organizing and activism, Christie entered the education sector as a parent and community member concerned about systemic racism in schools.

She worked with City Garden's founder and parents to develop an anti-biased, anti-racist neighborhood Montessori school that serves children from preschool through eighth grade. City Garden opened as a charter school in 2008 and provides children with a rigorous, individualized education with a focus on racial equity and social justice. Christie recently helped launch the City Garden Montessori Institute, which centers antiracism in its Montessori Teacher Education Program. Christie and her three children live in St. Louis, Missouri.