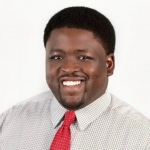 Vice President, District Partnerships
Cory Edmonds is the VP, District Partnerships with Allovue, Inc., a startup education finance technology company. Allovue is currently working with districts across the country to budget and manage over $25 billion in education spending. At Allovue, Cory leads district implementations of the Allovue product suite and works closely with district leaders, providing strategic consulting services to help improve financial management and efficiency.

Prior to Allovue, Cory led operations and finance for the largest cluster of Breakthrough Charter Schools in Cleveland, Ohio. Breakthrough Schools is the highest-performing network of public charter schools in Ohio, serving thousands of students across 11 schools. Before moving to Cleveland, Cory served as the director of operations and finance for YES Prep Public Schools where he helped lead YES Prep's expansion into Memphis, Tennessee.

Cory also served as a senior budget analyst at Atlanta Public Schools, and as a research consultant at the Edunomics Lab, a Georgetown University-based research center focused on exploring and modeling complex education finance decisions. In addition, he was a consultant with Education Resources Strategies, a strategy consulting firm that partners with district, school, and state leaders to transform how they use their people, time, and money.

Cory earned bachelor's degrees in education policy and sociology from Trinity College, and a master's degree in public administration with a focus in public finance and budgeting from the University of Georgia. He is also a graduate of The Broad Residency in Urban Education where he earned a master's in education leadership.