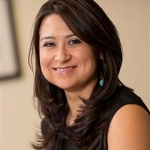 New Venture Fund, English Language Learner Success Forum
Crystal Gonzales is the executive director of the New Venture Fund's English Language Learner (ELL) Success Forum. In this role, she partners with national experts, organizations, and educators on a shared vision to increase the quality of K-12 instructional materials that meet the needs of the growing ELL population.

Previously, she spent four years at the Helmsley Charitable Trust as a program officer, developing and managing grants in the K-12 teaching and learning portfolio within the $45 million national education program. She was a member of the Education Funders Strategy Group, the Latino Student Success Funders Group, and the Redesign PD Partnership. She has also consulted with a number of national foundations on strategy related to educational equity and ELLs.

Prior to the Trust, Crystal worked at the Posse Foundation in Chicago where she supported first-generation college students in their academic and career endeavors. She also worked at the Chicago-based Polk Bros. Foundation, as a graduate intern where her portfolio included grantmaking in education, social services, and health. Prior to her work in Chicago, Crystal began her career as a fourth grade bilingual teacher in Houston ISD. She is an alumna of Teach for America and AmeriCorps, and is currently a member of Education Leaders of Color and Latinos for Education.

Crystal holds a master's degree in social service administration from the University of Chicago, and a BA from the University of New Mexico. She is a proud native New Mexican and currently resides in New York City.