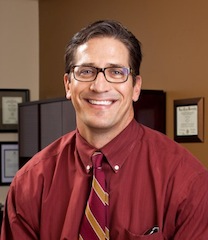 Founder & Chief Advancement Officer
Dr. Daniel Scoggin is the founding Chief Executive Officer of Great Hearts Academies. In 2004, Scoggin co-authored the Great Hearts business plan and secured the initial partnerships with local and national donors. He has since overseen the network's growth from 300 students at one school to 7,400 students at sixteen academies across Phoenix as of fall 2013. Scoggin is now also working on the national expansion of Great Hearts, with schools to open in San Antonio (2014) and Dallas (2015).

A native of Arizona, Scoggin attended public schools and went on to Santa Clara University in California as an English Literature major, spending his junior year abroad at the University of Durham in England. While completing his Ph.D. in English Literature at the Claremont Graduate University, he taught at Harvey Mudd College, The Phoenix Institute at the University of Notre Dame, and Mesa Community College, and he coached basketball at Pomona College. In 1998, Scoggin returned to his hometown to teach humanities and coach at Tempe Preparatory Academy, where he oversaw the first six graduating classes of the academy before co-founding Great Hearts Academies. He is a 2008-2009 Piper Fellow and recently attended the Executive Education Program at Stanford University.