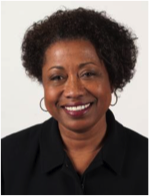 NewSchools Venture Fund (NSVF)
Deborah McGriff is a former partner at NewSchools Venture fund and leads the National Network of Charter Schools to enhance college readiness and success. McGriff has been committed to transforming the lives of underserved urban school students for almost four decades. In 1993, McGriff became the first public school superintendent to join EdisonLearning (formerly Edison Schools). There, she held numerous positions at the company, including President of Edison Teachers College, Executive Vice President of Charter Schools, and Executive Vice President of several external relations functions.

Prior to joining EdisonLearning, McGriff served as the first female General Superintendent of Detroit Public Schools. Crain's Detroit Business named her Newsmaker of the Year for 1992. Before that, she was the first female Assistant Superintendent in Cambridge, Massachusetts and the first female Deputy Superintendent in Milwaukee, Wisconsin. She was a teacher and administrator in the New York City Public Schools for more than a decade.

McGriff is the former President of the Education Industry Association. She currently serves on the board of the Policy Innovators in Education Network; National Alliance for Public Charter Schools, where she also is an executive committee member; and is the founder and a national board member of the Black Alliance for Educational Options. She also serves on the advisory boards of the National Council on Teacher Quality and of the Program on Education Policy and Governance at Harvard's John F. Kennedy School of Government, as well as the Technical Working Group for a national evaluation of the Federal Charter Schools Program being led by WestEd. McGriff is also a member of the Review Board for the Broad Prize in Urban Education.

McGriff holds a bachelor's degree in Education from Norfolk State University, a master's degree in Education with a specialization in reading pedagogy from Queens College of the City University of New York, and a Doctorate in Administration, Policy and Urban Education from Fordham University.