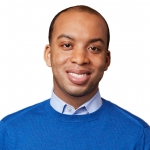 Derrick Johnson is Chief of Staff of EL Education. In this role, Derrick is responsible for the implementation and progress of the EL Education Strategic Plan, manages the Executive Office, coordinates the Executive Team, and is a liaison to the EL Education Board of Directors.

Prior to joining EL Education, Derrick held roles at CityBridge Education and NewSchools Venture Fund, where he funded the launch of more than 75 innovative public schools across the country. Earlier in his career, he was a founding teacher and a school leader of two National Blue Ribbon Schools at Success Academy Charter Schools in New York City. He began his career as an analyst at Goldman Sachs.

Derrick earned a master's degree in education policy, organizations, and leadership from Stanford University and a bachelor's degree in business administration from Morehouse College. At Morehouse, he was a Gates Millennium Scholar and an Oprah Winfrey Scholar.

Derrick lives in Detroit, where he serves on the investment committee of the Detroit Children's Fund. He is also a Pahara Fellow and serves as vice-chair of the Diverse Charter Schools Coalition and chair of the Social Justice School, an EL Education school in Washington, DC.