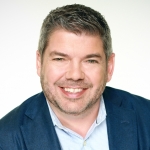 Diego Arambula is a Partner with Transcend, working with schools across the country to explore how to best reimagine learning environments to prepare all children to thrive. Prior to joining Transcend in the fall of 2018, Diego Arambula spent nearly 15 years working to build, lead, and unlock demand for innovative schools.

Diego began his work in public education in 2005 at Summit Public Schools, a leading network of public charter schools headquartered in California. At Summit, Diego was a classroom teacher, a founding principal and the Chief Growth & Innovation Officer. Through his ten years as a team member - and his years since serving on the Summit Public Schools board - Diego has supported Summit's move toward personalization and a refined and scalable school model.

Diego has also served as the founder and Executive Director of GO Public Schools Fresno, an education advocacy non-profit focused on unlocking demand for radically re-envisioned school models in his hometown of Fresno, CA. Under his leadership, GO Fresno advocated for transformational change in Fresno Unified through their Choosing Our Future report.

He began his career in politics, serving as the Communications Director for U.S. Representative Cal Dooley after serving as his Deputy Campaign Manager. Diego received his A.B. in government from Harvard University and a Master's in Education from Stanford University. He currently serves as a Trustee for the California State University system, and on the boards of Summit Public Schools and the Central Valley Community Foundation. He lives in Fresno with his wife, Chandelle, and their two school-aged daughters.