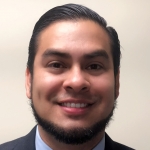 Office of the President, Los Angeles Unified School District
Edgar Campos serves as the chief strategy officer to the Office of the President, Monica Garcia, at the Los Angeles Unified School District. He is responsible for policy, priority projects, and community engagement advising. Before his current role, Edgar was a senior policy strategist with Reinvent Communications, pushing state global warming reform efforts and rolling out the "My Brothers Keeper-Whole Village Initiative" for Long Beach Council Member, Rex Richardson. Edgar also worked as the policy director for Californians for Justice where he partnered with organizations like California Teachers Association, Ed-Trust West, and the American Civil Liberties Union to make state Local Control Funding Formula regulations more inclusive of the community.

Edgar spent five years at Community Coalition in his native South Los Angeles as a lead organizer working on education, youth-development, child-welfare, civic engagement, public safety, and urban planning campaigns. Edgar is known for his involvement in reforming corruption in the City of Cudahy by leading electoral campaigns. Edgar ran his first electoral campaign at 24 years old, for now termed-out South Whittier School Board Member, Jorge Hernandez, in 2009.

Edgar spent three years working as producer and host on Power 106's, "Knowledge is Power" radio show, where he played a key role in promoting spaces for dialogue on community issues throughout Los Angeles and Orange Counties.


Edgar has worked with various groups such as University California Los Angeles' (UCLA) Academic Advancement Project and the Community Programs Office, Community Build Inc., and UCLA's Early Academic Outreach Program, which all strive to promote access to higher education for students in the inner-city. Edgar holds a bachelor's degree from UCLA and is finalizing a master's thesis at American Jewish University.