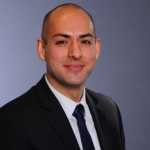 Senior Managing Director of Operations
Efrain Guerrero is the Senior Managing Director of Operations at KIPP NYC where he and his team oversee school operations for 18 schools, after school programs, enrollment, compliance, and a robust scratch-cooking school food program. Before KIPP NYC, Efrain was the Chief of Staff at East Harlem Tutorial Program (EHTP) where he managed EHTP's data team, oversaw board governance, and worked on various cross functional special projects across the organization. Before EHTP, he was the director of school operations at Achievement First Bushwick Middle School where he joined as part of the Broad Residency Program. There, he served on the school's leadership team and managed the school's $6.3 million budget, human resources systems, and supporting school initiatives, including improving communication with Spanish speaking parents.

Efrain brings a passion for education and a wealth of strategy and operational experience from a career that spans market research at Proctor & Gamble, and fundraising for Services and Advocacy for GLBT Elders (SAGE) and Gay and Lesbian Alliance Against Defamation (GLAAD). Efrain holds a bachelor's degree in sociology from Harvard University and a master's degree from the Wharton School of the University of Pennsylvania.