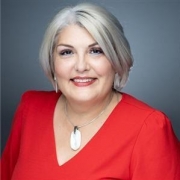 PhalenLeadership Academies
Elizabet (or as she is known to most, Lisa) Garza, has been in the education field for 32 years. After nearly 2 years as the Chief Schools Officer for IDEA Public Schools, Lisa retired from IDEA Public Schools. Lisa took some time off to be with her herself and her family. She recently joined Phalen Leadership Academies where she serves as the VP of Leader Development.

She began her career as a teacher in the Houston area where she taught for 5 years. She then met her now husband and in 1995 and he brought her down to the Rio Grande Valley where she continued her educational career. She taught in Weslaco, Texas, for 6 more years and then became an Assistant Principal for 3 years. She was the proud principal of Cleckler-Head Elementary in Weslaco for 6 years.

In 2010, Lisa was recruited by IDEA Public Schools to become a principal manager. She continued to manage principals and lead schools in the Upper Valley as the Executive Director until 2019. She was promoted to Area Superintendent where she managed the executive directors across 5 regions. She completed her time with IDEA Public Schools as the Chief Schools Officer.

Lisa lives in Weslaco, Texas with her husband Frank. They have 3 children: Anaisa, who is a school counselor at IDEA Public Schools in Austin; Anthony, who is currently attending Our Lady of the Lake University in San Antonio; and Isaiah, who will be an incoming 7th grader at IDEA Weslaco Pike College Preparatory.