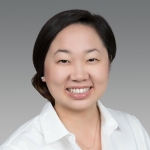 Lizzie Choi (she/hers) is a Pahara Fellow (Octavia and the Six) and senior vice president at the Pahara Institute. Her team leads operations and the convening, connecting and amplifying needed to realize the potential impact of our leaders and network.

Prior to Pahara, Lizzie served as the chief program officer at Summit Public Schools, where she led the Summit Learning Program. Under her leadership, the program grew from the founding cohort of 19 schools across ten states to 380 schools in 40 states serving over 65,000 students. Partnering with a diverse range of schools and organizations throughout our field has reinforced Lizzie's commitment to equity and love for collaboration, connection, and culture.

In addition to the Summit Learning Program, Lizzie has led sales and customer success for Desmos middle school math curriculum, partnered with Moonshot edVentures, Prepared Parents, Strive, and Swing Education through their seasons of growth and acted as an Advisor for the Bill and Melinda Gates Foundation. She also served on the board of Summit Public Schools.

Lizzie received her BA in public policy, with an emphasis on education policy, from Stanford University and her MA from the Stanford Teacher Education Program. In her free time, she enjoys sharing a meal and discussing Enneagram.