ELIZABETH WHITTAKER WALKER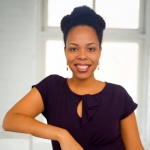 ELIZABETH WHITTAKER-WALKER
Raymond Whittaker Design, LLC
Elizabeth is a thought-leader, innovator, strategist and coach who believes in people and our power to build a just and equitable world. She is the founder of Raymond Whittaker Design, LLC a consulting firm committed to equity-leadership and organizational development.

With over 15 years of experience, she is known internationally for her warm, strategic and principled approach to leadership, coaching, institutional design and facilitation. Having trained and coached policy leaders, organizers, school and district leaders, philanthropists, non- profit professionals, political candidates and more, she centers her practice on deep listening, principled accountability, equity, integrity, empathy and impact.

Elizabeth has designed and implemented hundreds of programs, workshops, and trainings across the nation. Her work has spanned the globe, as she's lead social justice and diplomacy projects in West Africa, Southeast Asia, and Europe. She is a skilled facilitator with a unique ability to both meet participants where they are and inspire them to reach well beyond.

Elizabeth began her career in education as a teacher, curriculum designer, and later school principal. Being well-acquainted with the challenges schools faced, she thought it important to lend her voice to the policy landscape to help inform the practices that directly impacted school communities. That work led her to Leadership for Educational Equity, were she lead a national team dedicated to advancing the leadership of historically underrepresented communities in policy, advocacy, organizing and elected leadership. Elizabeth later journeyed to the Council of Michigan Foundations, where she lead the organization's state-driven public policy strategy development, supporting collaborative philanthropic responses to Michigan's most critical needs.

Elizabeth is a trusted advocate and ally, and sits on several boards dedicated to advancing social justice. She is a Northwestern University graduate and Teach for America St. Louis alum. She is devoted mother, wife, writer, and bookworm who values love, honesty, laughter and soulful vegetarian cooking.